Welcome to the world of my visual art.
Visual Art 2019 Aurora Award Nominee for Best Artist
Read about the 2019 Aurora Awards held in Ottawa, Canada, here.
Visual Art Portfolio Samples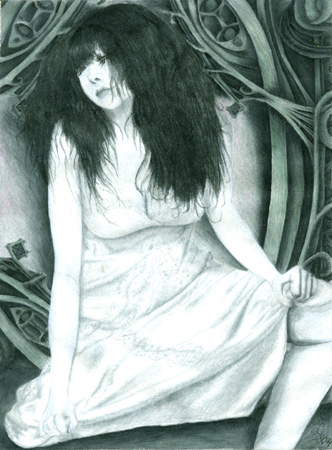 View Visual Art in the Shop
Stickers, T-shirts, Phone Cases, Mugs, Art prints, and more.
Fairy Art
Demons, Monster, Creature Art
Disability Abstract Art
Horror Art
T-shirt Shop
Abstract Art
Do you ever hear of a construction worker saying, I had a dream last night and went to my boss the next day and asked if we could work on a building? Of course not. It's just a job.
Art is a way of life.
Every artist dreams of making millions from their art. Me? I'm happy if I sell a T-shirt. Fame and riches can wait. Food is more important.
Of course, if I woke up to fame and riches tomorrow (buy from my shop), I wouldn't complain.
I create art because if I didn't, I'd lose my mind.
I've always been fascinated by wings. You'll find that's a common theme in my visual art. Wings are strong yet fragile. Fascinating.
The media I enjoy the most are watercolor, prisma crayon, acrylic paint, and my trusted copy of Photoshop. These media enable me to express creatively without interference from my disabilities.
My favorite genres are gothic, abstract, fantasy, and horror art. Nature art is just something I do for fun.
I offer art for sale. My prices are reasonable. But if you want a quick buy, there's my Redbubble shop (hint).
I also design posters for scripts. If you already have images on hand, I'll put it all together for you. Starting price is $5, depending on content. See my writing page for poster designs.
Questions? Check out the FAQ/Contact Page.